HOW WE HIRE
Things move quickly at Hirota Corporation. That means we try to hire great people, regardless of the job. Jobs can change, but having great people is always a priority. We look for people match our company values and who above all, aspire to be true business managers. We're looking for people who are good for team of Hirota Corporation – not just for right now, but for the long term.
This is the core of how we hire. Our process is pretty basic; the path to getting hired usually involves a written application and a series of interviews with our recruiters and for some positions, with our leadership team. But there are a few things we've added along the way that make getting hired at Hirota Corporation a little different.
We'll want to know about your ability to be a business leader – more specifically, four abilities: Your Ability to Lead A Team, Earn A Profit, Change, and Pursue an Ideal.
We're looking for people who have a variety of strengths and passions, not just isolated skill sets. We also want to make sure that you have the experience and the background that will set you up for success in your role. At Hirota Corporation, we do things differently from other retailers and we'll want to know how you will fit at Hirota Corporation.
Why don't you join us ?
Knock our door, we are always pleased to welcome you !
Details
Detail
Position
Technical department
Position : R&D, Design (Mechanical/Electrical), Production Management, Manufacturing,
After Service, Maintenance
Commercial department / Corporate division
Position : Sales Engineer, Marketing, Commercial, Corporate Strategy, Accounting, Legal,General Affairs, etc
Salary Raise
Once /year
Bonus
Yes
Holidays
2 days a week(Saturday・Sunday)、National holidays、Paid Holidays etc
Welfare
Social Insurances, Company residence, Benefit Plan for employees and families
(leisure, hotels, amusements etc), Pension etc
Working Place
Headquarters (Shimada-City, Shizuoka) or Tokyo Office (Chiyoda-ku)
Working Time
8:00~17:00(Headquarters Factory) *1 hour lunch break(Cafeteria lunch is available)
Training
System
Freshman training, Technical training, On the job training, E-learnings,
Trainings at overseas, language classes
Recruiting
Careers, Freshman, Senior specialist are welcomed
*Graduate, Under Graduate, College, High school Students are acceptable to entry.
Education
All majors and specialist are applicable
Process for
Recruiting
Application form, Interviews, etc
Application
Form
Please go to the below entrée form

Application:

Company
Tour/Orientation
Headquarters and Tokyo Office (Please refer the "What's New" of the front page)
Internship
Yes (Please refer the "What's New" of the front page)
Contact
<Headquarters>
532 Ohyanagi Minami Shimada-City, Shizuoka prefecture, 427-0102, Japan
E-mail : k-sakurai@hirotacorp.jp
TEL:0547-38-3211
(TEL from overseas: +81-547-38-3211)
Access:
(By Train) JR Tokaido Line "Rokubo Station" or "Shimada Station" 10 mints by taxi
(By Car) Tomei Highway "Yoshida Interchange" exit 5 mints
(By Airplane) Shizuoka Airport 20 mints by taxi


<Tokyo office>
Asset Rokubancho Bld BF, 13 Rokubancho, Chiyoda-ku, Tokyo, 102-0085, Japan
E-mail : k-sakurai@hirotacorp.jp
TEL :03-3265-7731
(TEL from overseas: +81-3-3265-7731)
Access:
(By Train) JR/Tokyo Metro "Yotsuya Station(Kojimachi Exit)" 5 mints on foot
Tokyo Metro "Yurakucho Station" 7 mints on foot
Recruting Proces 6 Training Program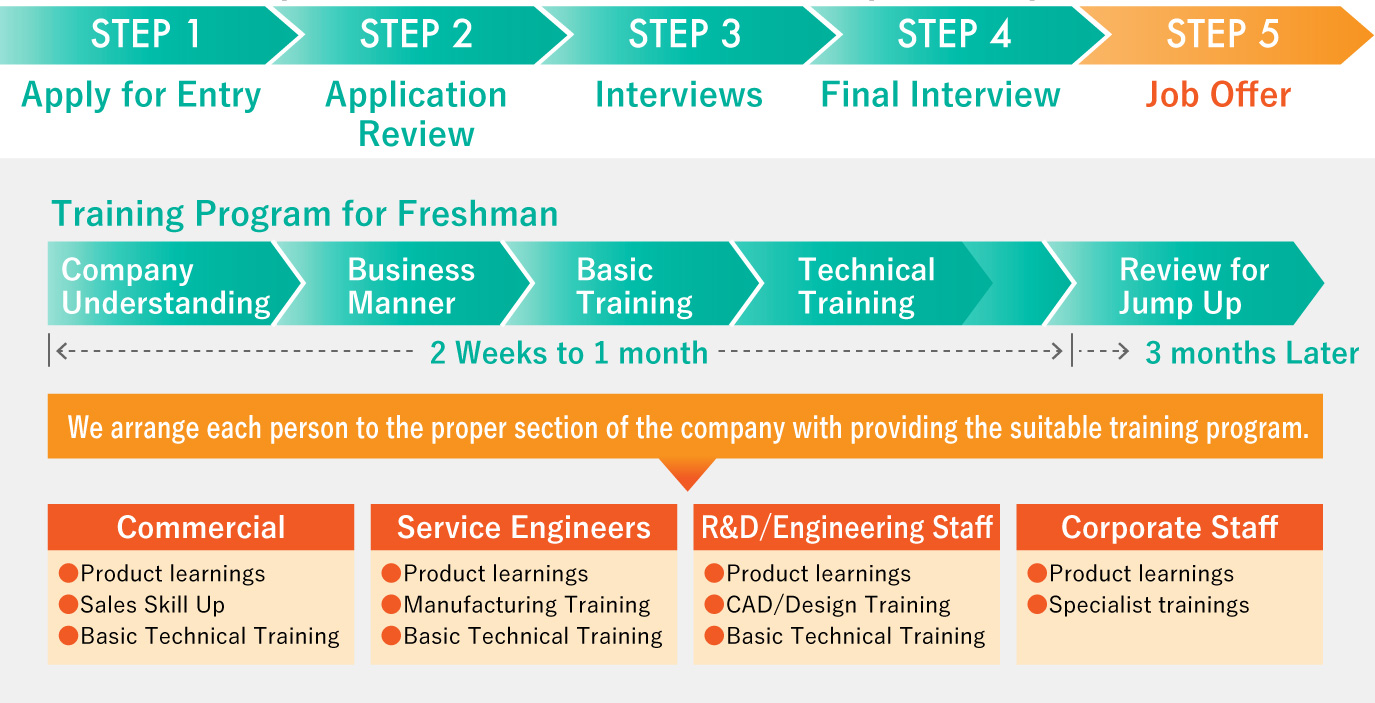 Professional step-up Training Program
In parallel with professional step-up training for each type of job, we conduct qualifying exams and language education.


Global Training Program
Language training and training at overseas partner companies are also held
Actively conduct language training such as English to encourage the development of global human resources active in the world stage. Employees can take free courses. We also hold training in collaboration with overseas group companies to respond to globalization.
Skill Up Support System
The skill improvement, qualification acquisition, E-learnings are supported by the company
Hirota Corporation fully backs up the acquisition of public qualifications regardless of sales, corporate and technical work. Many of our employees have official qualifications useful for the research and development, sales, manufacturing and maintenance of products. We also support E-learnings such as language and computer skills (such as Word and Excel skills), and many employees are working to improve their skills.